By Rianna Croxford
Correspondent, BBC News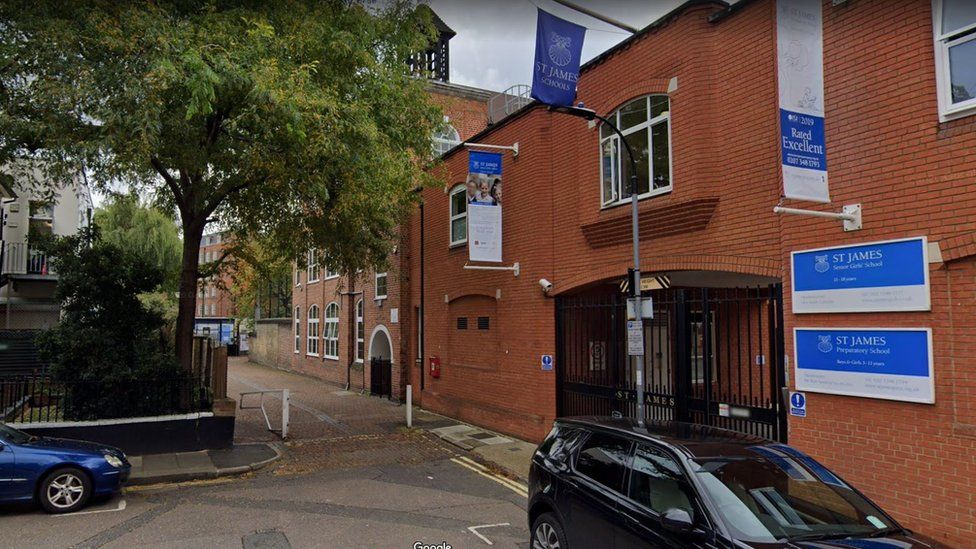 Nearly £1m in compensation has been paid to dozens of former students at two London private schools following historical allegations of abuse.
An inquiry previously found pupils at St James in South Kensington and St Vedast in Hampstead had been subjected to "criminal levels" of violence over two decades from the 1970s.
Former students have told the BBC they were severely beaten.
St James school said it "apologised unreservedly" to those who "suffered".
The BBC has been told 45 former students who attended the schools between 1975 and 1992 have so far received payments of up to £30,000 each.
All of the cases were settled without an admission of liability and did not come before court.
St James primary and St Vedast senior boys' and girls' schools were established as an independent educational charity in 1975 by the School of Economic Science (SES), a controversial organisation influenced by orthodox Hinduism, the study of meditation and philosophy.
'Unreasonable and criminal'
An independent inquiry was commissioned in 2005 by the schools' owners, the Independent Educational Association (IEA), after allegations of mistreatment started to emerge from former pupils.
James Townend QC, who chaired the inquiry, said boys at the schools in particular had been "criminally assaulted by being punched in the face or in the stomach" or "cuffed violently about the head".
"Whatever the provocation nothing could justify this mistreatment. It was clearly unreasonable and criminal," he wrote in his report.
Mr Townend, who died in 2018, concluded that "mental and physical mistreatment" had occurred in part because the schools' "governors were not in any real sense in charge" and several teachers lacked experience or were unsuitable for the job.
St Vedast school was closed in 1985.
Christopher de Vere was the first former pupil to take legal action in 2016 and reached the decision after being plagued by recurring stress dreams.
He joined St James aged nine in 1980 and says he was immediately moved to St Vedast to receive support for his dyslexia.
"Everything was designed to break your will," the 50-year-old, who now lives in Perthshire, Scotland, recalled. "It was absolute heads-down fear."
Mr de Vere said he was made to excessively clean, have ice-cold showers and do press-ups on stinging nettles as punishment.
On one occasion he said he was "beaten with a cane" after being accused of dishonesty.
Mr de Vere received £22,000 in compensation last year and said he hoped by speaking out others would not feel as alone.
'Lasting damage'
Another former male student, now in his mid-40s, said in his legal claim that at the age of five he was made to "urinate in the middle of the classroom" in front of his classmates as punishment for not using the toilet during break time.
He also alleged that aged eight he was made to "take his shorts down and reveal his naked-self in the middle of Hyde Park" for not following a teacher's instruction during a sports game.
Malcolm Johnson, an abuse compensation claims specialist at Hudgell Solicitors, says he has so far secured five-figure settlements totalling £988,500 for former pupils.
"What we uncovered during the course of our investigations was a harsh regime, which left many of my clients with lasting damage," he said.
'Deeply regrettable'
An IEA compensation scheme is running until 31 January 2021 and both Mr Johnson and St James school are encouraging any former pupils who wish to make a claim to come forward.
A school spokesperson said: "These distressing incidents were wholly unacceptable, and it is deeply regrettable that they occurred at St James, even a long time ago.
"We apologise unreservedly to each of those who suffered mistreatment during that time and are grateful for their courage and persistence in ensuring that these aspects of St James' past have now been confronted.
"We recognise that no sum can compensate for a childhood afflicted in this way."
St James Independent Schools is now formed of three fee-paying schools in Hammersmith and Fulham and Surrey for children aged four to 18.
"The school today is an entirely different place, one in which the happiness and welfare of every child is paramount," the spokesperson said.
In October 2019, the Independent Schools Inspectorate (ISI) judged the junior school as "excellent" in all areas.