Police have released a statement confirming six people have died following a terrorist attack on London Bridge and Borough Market. The three attackers were shot dead.
In a statement released, police confirmed the attackers were shot dead within eight minutes of the first call being made.
It is believed that the suspects drove a van into pedestrians on the bridge before continuing their cowardly attack into Borough Market where they attacked civilians with knives.
A picture was posted on the BBC, which sources say show a man laying on the ground with 'canisters strapped around his waist' with another potential perpetrator in the background.
At around 22.15 this evening a van, travelling at 'about 50mph' mowed down pedestrians at London Bridge and witnesses reported hearing 'tremendous gunfire'.
Casey Hendrickson @caseythehost

Photo of two possible #LondonBridge suspects shot. Gabriele Sciotto is documentary photographer who too photo.https://www.instagram.com/fried_chicken/
The Mayor of London has released a statement on the 'deliberate and cowardly attack on innocent Londoners.'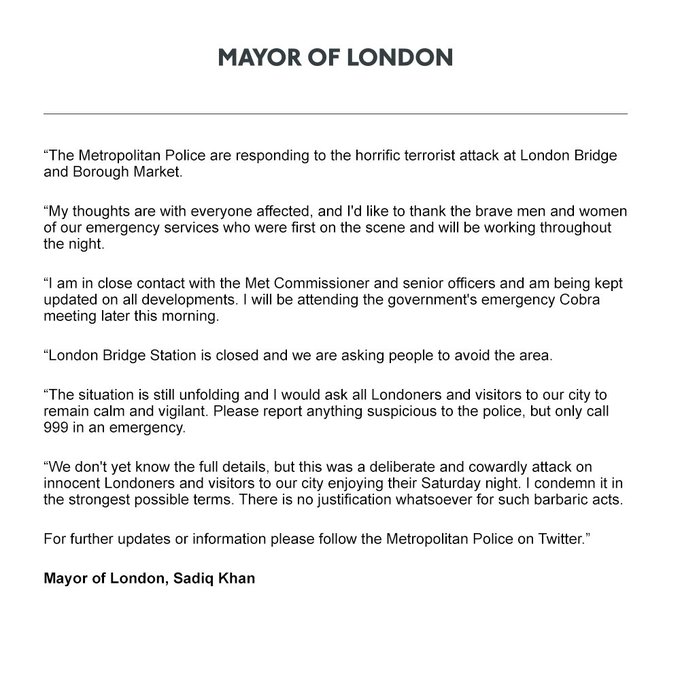 Mayor of London

My statement on the cowardly terrorist attack in London tonight: https://www.facebook.com/MayorofLondon/posts/473702402975922 …
Please continue to follow @metpoliceuk for updates
Metropolitan Police earlier confirmed that the attacks at London Bridge and Borough Market are terrorist incidents.
Metropolitan Police

At 0025hrs 4/6/17 the incidents at #LondonBridge & #BoroughMarket were declared as terrorist incidents.
A third incident, which occurred in Vauxhall, has been confirmed as a stabbing that is not connected to the first two.

<!-comments-button-->