It is that time of year when our canine friends take centre stage.
As voters in England and Northern Ireland go to the polls our dogs often join us for the walk and, sometimes, a photo opportunity.
Elections are being held for 248 English councils, six mayors and all 11 councils in Northern Ireland. There are no local elections in Scotland and Wales.
Since the polls opened at 07:00 BST many a dog has been snapped outside a polling station and, as has been popular on polling days over recent years, shared across social media.
You might also be interested in: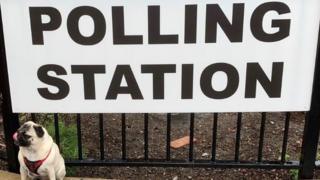 By Kris Bramwell, BBC UGC and social news