The number of patients in Welsh hospitals with Covid-19 could reach twice the number seen in April, if current trends continue.
NHS Wales boss Dr Andrew Goodall said there are already almost 2,800 Covid-related patients, taking up more than a third of all hospital beds.
His warning comes amid rapid increases in cases in north Wales.
The number of critical care patients in one north Wales hospital has doubled since Christmas Eve.
Speaking at a press conference, NHS Wales chief executive Dr Goodall said the number in hospital was 4% higher than last week.
"If this trend continues, very soon the number of coronavirus related patients in hospital will be twice the peak we saw during the first wave in April," he said.
Two health boards are close to 50% of their beds occupied by Covid-related patients.
"We are not able to deliver a complete range of NHS services with such high rates of coronavirus in our communities or hospitals," he said.
More patients are in critical care across Wales than during the peak of the first wave in April.
Dr Richard Pugh, of Glan Clwyd Hospital in Bodelwyddan, Denbighsire, said fatality rates from Covid were rising, with 40% not surviving.
He told Radio Wales Breakfast: "Our unit is essentially full and the number of patients in north Wales has doubled since Christmas Eve."
Dr Pugh, who is also head of the Welsh Intensive Care Society, said patients were arriving in critical care sicker than at any other time in the pandemic.
"Wales was not in a robust position going in to coronavirus. We are already maxed out in terms of our capacity and the cases keep coming."
In Glan Clwyd, half the patients in critical care are there because of Covid, he said, and they included previously healthy younger people.
"I've looked after patients in their thirties who've previously been fit and well," the specialist said.
"And people in their 40s and 50s who've unfortunately succumbed to coronavirus."
Across the six north Wales counties, only Gwynedd has seen a decrease in infection rates over the last seven days, and is the only north Wales county under 100 cases for 100,000 population.
But Dr Pugh added: "I have concerns that in north-west Wales, it won't be long before we're seeing a rise again unfortunately."
'Rapid increases'
Speaking at the Welsh Government coronavirus briefing on Wednesday afternoon, Dr Atherton said the situation in parts of north Wales was very serious.
"There are signs cases are rising in many parts of the country," he said.
"In north Wales, in particular, we are seeing quite rapid increases in Wrexham, Flintshire and Denbighshire".
He said this was a result of the new variant strain of the virus and "too much population mixing".
How bad are things looking?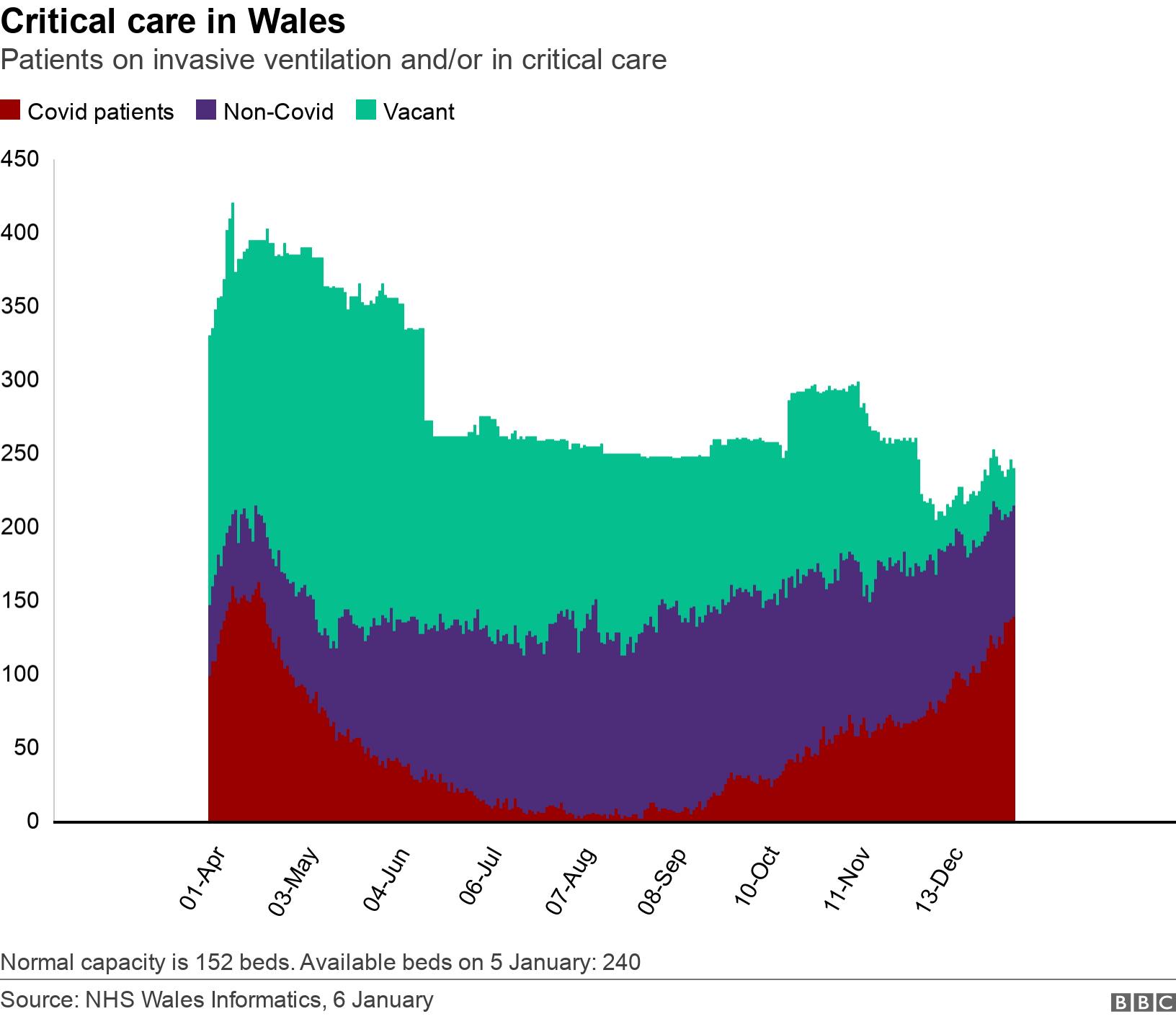 There were 140 people being treated on invasive ventilated beds, including in critical care, for confirmed or suspected coronavirus on Tuesday.
This is the highest number since 20 April and just after the peak, which saw 164 patients in critical care with Covid.
Cardiff and Vale had 34 patients in critical care or on invasive ventilation. These are the highest numbers it has seen since mid-April
There were 29 in Cwm Taf Morgannwg, 25 critical patients in Swansea Bay, 20 in Betsi Cadwaladr hospitals – the highest since mid-May, 19 in Aneurin Bevan – where there were no vacant critical care beds – and 13 in the Hywel Dda area.
Has Christmas mixing had an impact?
Dr Pugh believed it was too early to tell what the impact of mixing at Christmas might be but was "grateful" the Welsh Government had reduced the relaxation in mixing rules from five days to one.
He highlighted the strain the pandemic was having on staff.
"People are putting on a brave face. It's been a difficult time and people are very tired and exhausted," he said.
"I often catch colleagues who are close to the edge at work and the end isn't quite in sight yet."