By Carys Betteley
BBC News
image copyright

Getty Images
image captionMany have celebrated the value of teachers since attempting to home-school their children
A focus on teaching during the pandemic has lured more people to the job, the Welsh government has claimed.
It comes as figures show the target for new trainee teachers was missed for the sixth year running in 2019-20.
The figures for 2020-21 will not be published until next May, but they are expected to show a rise in interest.
The Welsh government said recruitment was already growing as a result of the coronavirus pandemic, highlighting the importance of the profession.
The latest figures showed just 465 students enrolled on to secondary school teaching courses in 2019-20, less than half the allocated 1,006 spaces.
The situation was better for primary school courses, with 615 students enrolled – but still missing the target of 696.
Along with missing targets for several years, the number of trainee secondary teachers dropped by 3% since the previous year, although primary has seen a rise of 5%.
However, a Welsh government spokesman said: "Current trends suggest the pandemic has helped to highlight the vital role played by teachers and more people are choosing to start teacher training.
"Recruitment to ITE (initial teacher education) programmes grew by half in the last year, and the early indications for training programmes starting in September show the level of interest continuing."
image copyright

Bianca Alfieri
image captionBianca Alfieri says she would encourage anyone considering teaching to go for it
Mary van den Heuvel, senior policy officer for the National Education Union (NEU), believes lockdown has helped the image of the profession – but said it was too early to know the exact impact.
"It's really disappointing [that the targets have been missed], but the last year has shown us that teaching is such an important profession for everyone in society.
"We have had mums and dads looking after children at home, and so much has been done to highlight the importance of teaching and how we need to support our teachers."
She said teachers had worked particularly hard in the past year due to the "steep learning curves", such as the shift to lessons online.
'Challenging but amazing'
Trainee secondary school teacher Bianca Alfieri said the pandemic had shown her how rewarding teaching could be and she encouraged anyone considering it as a career to "go for it".
Miss Alfieri, 24, is studying a PGCE at Cardiff Met University and has just secured a job as a drama teacher.
"It's been challenging but it's been amazing," she said.
"My first placement was teaching drama remotely, standing in front of a classroom teaching drama from my bedroom, it's made me and other trainee teachers able to adapt.
"I do think parents and carers really understanding how much teachers work now, even from a drama point of view, I think some people and other teachers thought 'it's just drama', but they've realised how much work we've had to do and there's a lot more understanding.
"Just like NHS workers, teachers should be celebrated."
'More respect for teachers after home-schooling'
image copyright

Cerys Payne
image captionCerys Payne says teaching is hard work but making a difference for children makes it all worth it
Cerys Payne, 21, has secured a primary school teaching job following her course at the University of South Wales in Newport.
She said: "I think parents trying to work from home and teach was always going to be really hard work, so there was so much respect for teachers during the pandemic and now.
"It's coming to light how underpaid teachers are, it's always been known that nurses were, but now we've seen how hard teachers work as well."
Ms Payne said she worked 70 or 80-hour weeks on placement, but added it was worth it for how rewarding the job could be.
"Seeing children develop throughout the year, especially in one of their not-so-good areas, is when you see you can make a difference, and seeing that light bulb moment is everything.
"I would say it's such hard work and you have to be committed, you can't see it as a 9-3 job because it isn't, but it's so worth it.
"To be one of those teachers that children remember for the rest of their life, that's the dream."
The pandemic has put teachers in the spotlight.
So, the value of the profession and the fact it's a pretty stable career in uncertain times could well help improve recruitment to teacher training courses, as more up-to-date figures become available.
But it's not just about increasing overall numbers – they're needed most in key subjects such as the sciences. It can be more difficult to recruit to schools in poorer areas and not enough can teach in Welsh.
Keeping teachers in the profession has been a big issue and it's not clear yet what impact the pandemic might have had on that.
Far from feeling appreciated, many teachers, especially headteachers, I've spoken to over the past few months have felt they've had a bad press at times and the stress of managing Covid measures and grading exam pupils has weighed heavily.
Any new enthusiasm for teaching is good news but making sure people want to say in the classroom will be just as important.
Is teaching too stressful?
Ms van den Heuvel said the pandemic had also shown the importance of well-being – a concern which can put people off teaching.
"It will be interesting to see how we are past the disruption [of the pandemic], because it has been a challenge and, for those people undertaking courses in the last year, there have been challenges there too."
She said stress and workload were major factors putting people off teaching but added the NEU had been working with the government and local authorities to address this, with the inspectorate Estyn also tasked with looking at wellbeing.
The latest figures showed an increase in first-year students able to teach in Wales following a previous decline, at 235 students in 2019-20 – 22% of the total amount.
Science, English and mathematics are the most common priority subjects for entrants to secondary school ITE courses in Wales.
In 2019-20, 1,030 people successfully qualified from an ITE course in Wales and 1,080 started one.
Are Welsh teachers staying in Wales?
There were 10 fewer students from Wales enrolled this year compared to last year, while students from England fell by 20.
More than eight of every 10 (86%) new students training in Wales were living in Wales before they started their degree, according to the government report, which is a slight fall from the previous year (88%).
While some Welsh people may go elsewhere to study teaching but return to their home country to teach, Ms van den Heuvel said this would not help with the government's target of 1,000,000 Welsh speakers by 2050.
"We've also got to make sure people already in the profession are able to develop their Welsh skills," she added.
What about the new curriculum in Wales?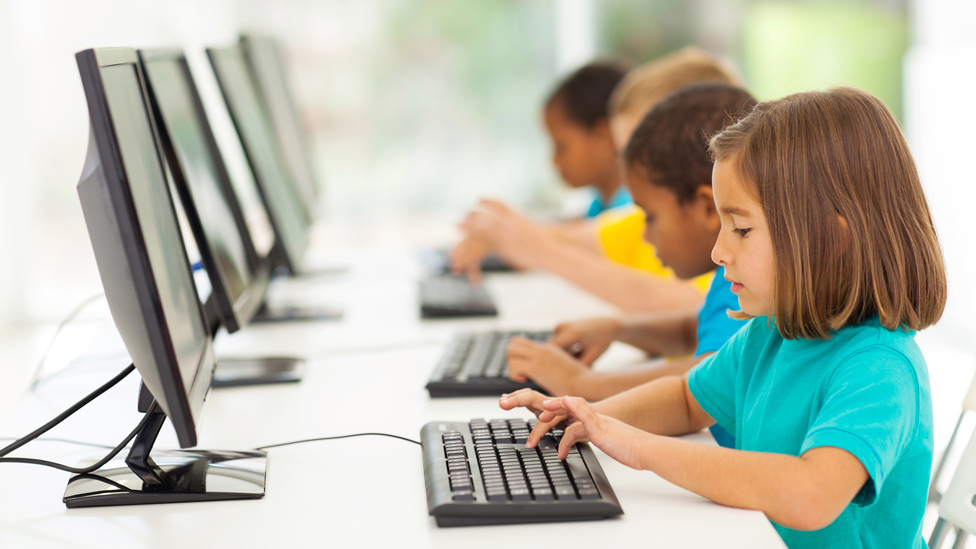 Getty
The new curriculum for Wales
Six areas of learning and experience
Source: Welsh Government, 2019
Plans to overhaul the curriculum in Wales from 2022 would also have an impact on the profession, Ms van den Heuvel said.
"It's important people are inspired, and this should be a real opportunity now to make sure teachers are given professional autonomy to shape the curriculum within their own schools.
"It's really critical that we've got everything we need to deliver that."
Related Internet Links
The BBC is not responsible for the content of external sites.