image captionElle Taylor, from Ammanford, was first to get the jab and says it will help her care for her grandmother "properly and safely"
The UK has begun the rollout of its third coronavirus vaccine, the Moderna jab, in Wales.
Unpaid carer Elle Taylor said she was "very excited and happy" to be the first in the UK to receive the jab.
In England, small business minister Paul Scully said the vaccine will be rolled out "in the next few days".
Meanwhile, European regulators are due to report their findings on a potential link between the AstraZeneca jab and rare blood clots at 15:00 BST.
Regulatory bodies from the UK and the World Health Organization are also continuing to assess the data.
Miss Taylor, from Ammanford, received the jab at the Glangwili Hospital in Carmarthen.
Speaking after receiving the vaccine, the 24-year-old, who works at a further education college, said: "I'm very excited and very happy.
"I'm an unpaid carer for my grandmother so it is very important to me that I get it, so I can care for her properly and safely.
"My grandmother has had her first dose and she is going for her second dose on Saturday."
Miss Taylor said she only found out on Tuesday evening that she was to be the first in the UK to receive the jab by Moderna, an American company.
Beverley Gower, from Kidwelly, who also received the jab, said she "didn't feel it".
The 49-year-old, who is also an unpaid carer so gets priority for the vaccine like Miss Taylor, added: "This is a way forward, isn't it? A way back to normality."
John Sanders from Carmarthenshire was the fifth person to receive the jab.
He said: "It's massively important. I'm a carer for my disabled son who's now 22. He's had brain cancer and various chemotherapies and he's got immune problems as well so it's obviously important for us."
image captionBeverley Gower described the jab as a "way back to normality"
image captionJohn Sanders said that as a carer for his disabled son it was "massively important" he received the vaccine
The UK is committed to buying 17 million doses of Moderna, the third of seven vaccines developed in the UK or around the world that it has put in orders for.
Like the Pfizer-BioNTech and Oxford-AstraZeneca jabs which are already in use, the Moderna jab is given in two doses, several weeks apart.
Health Secretary Matt Hancock said he was delighted the UK rollout of the Moderna vaccine was starting.
"The UK government has secured vaccines on behalf of the entire nation and the vaccination programme has shown our country working together at its best," he said.
Wales' Health Minister Vaughan Gething said a third vaccine for use in Wales "significantly adds" to the nation's defences against Covid-19.
media caption
WATCH: Pfizer v Oxford v Moderna – three Covid-19 vaccines compared
Across the whole of the UK, more than 31.6 million people have now had a first dose of a Covid vaccine – while 5.4 million have been fully vaccinated.
Mr Scully told Sky News the vaccination programme remained on track to cover all adults in England by the end of July.
How does the Moderna jab work?
The Moderna vaccine is a two-dose jab given at an interval of between four and 12 weeks.
Like Pfizer's, it is an RNA vaccine and works by injecting part of the virus's genetic code into the body, where it enters cells and tells them to create antigens.
These antigens are recognised by the immune system and prepare it to fight coronavirus.
No actual virus is needed to create an mRNA vaccine, meaning the rate at which it can be produced is accelerated.
It requires temperatures of around -20C for shipping – similar to a normal freezer.
How effective is the Moderna vaccine?
Trial results suggested efficacy against the disease was 94.1%, and vaccine efficacy against severe Covid-19 was 100%.
More than 30,000 people in the US took part in the trial, from a wide range of age groups and ethnic backgrounds.
How many doses of the Moderna vaccine does the UK have?
The government has bought 17 million doses – enough to vaccinate about 8.5 million people.
Scotland is due to receive more than one million of the UK's order, and the doses will arrive over a period of months.
First Minister Nicola Sturgeon cautioned that the supply does not mean the vaccine programme will be accelerated.
Is the Moderna vaccine safe?
Moderna said the vaccine was generally well-tolerated, with no serious safety concerns identified.
Severe events after the first dose included injection-site pain, and after the second dose fatigue, muscle pain, joint pain, headache, other pain and redness at the injection site.
But these were generally short-lived.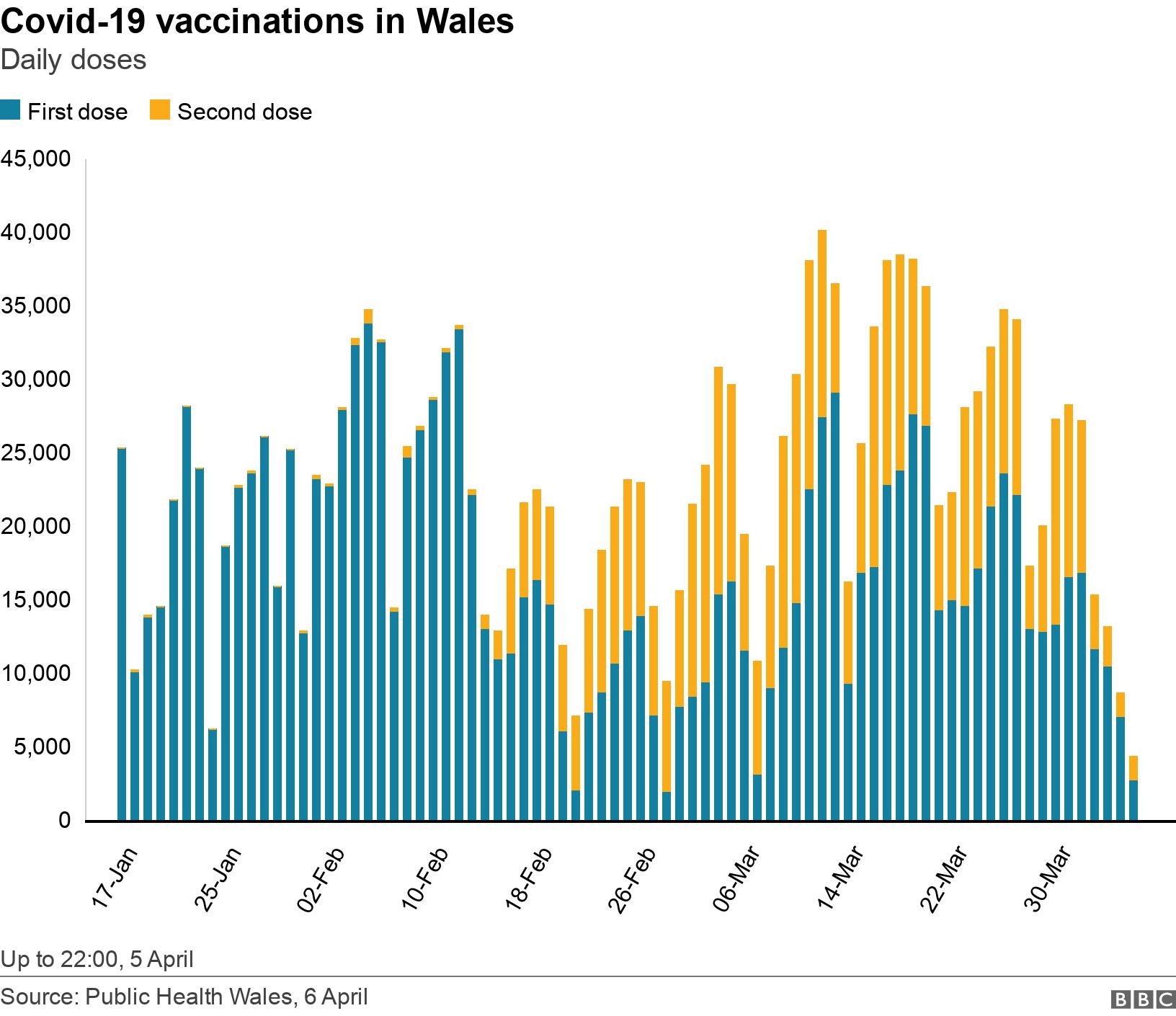 What's the response in Wales?
Ros Jervis, director of public health for Hywel Dda University Health Board, said the Moderna vaccine would be used alongside the Oxford-AstraZeneca jab in the rollout to communities in Carmarthenshire, Ceredigion and Pembrokeshire.
"We are incredibly lucky to have a third vaccine in Wales, with a long shelf life and the ability to be easily transported, to help deliver the vaccination programme to small clinics across our rural communities," she said.
Darren Hughes, director of the Welsh NHS Confederation, which represents health boards, told BBC Radio Wales the Moderna rollout would help the country make up for a reduction in Oxford-AstraZeneca supplies in April.
Mr Gething said every vaccine given in Wales was "a small victory" against the virus and people should go for their jab when invited.
A Welsh Conservatives spokesman said the UK government's vaccination strategy had been "fully vindicated".
Plaid Cymru's health spokesman Rhun ap Iorwerth said: "We need to know what this milestone now means for further easing of restrictions."
The Welsh Liberal Democrats said the third vaccine came as "welcome news", adding the priority should be to vaccinate everyone "as quickly and safely as possible".
More on this story
Wales' over-50s vaccine target success disputed

How many people have been vaccinated in Wales?

Which Covid vaccines are available around the world?

No new Covid-related deaths reported in Wales

When will I get my Covid jab?
<!-comments-button-->