By Nick Triggle and Rachel Schraer
BBC News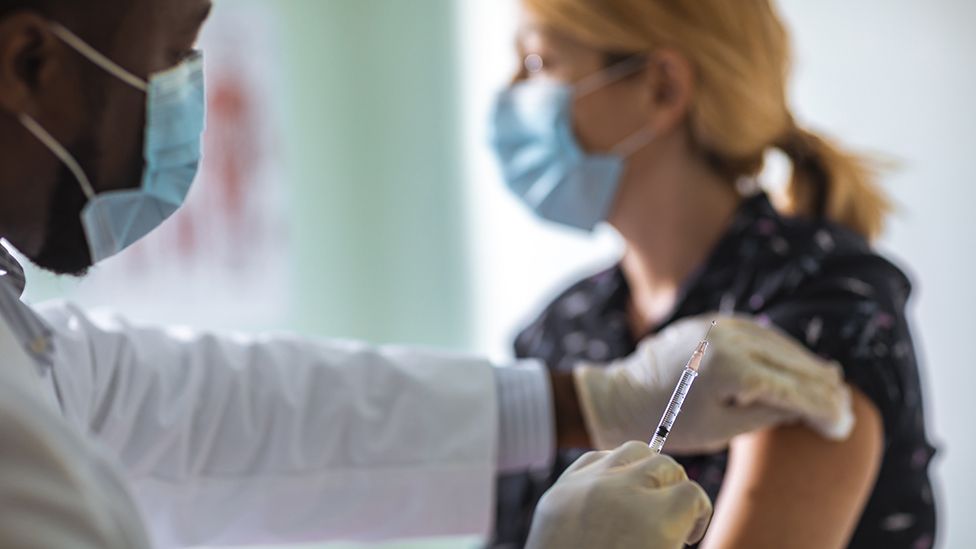 People with a history of significant allergic reactions should not have the Pfizer/BioNTech Covid jab, regulators say.
It came after two NHS workers had allergic reactions on Tuesday.
The advice applies to those who have had reactions to medicines, food or vaccines, the Medicines and Healthcare products Regulatory Agency said.
The two people had a reaction shortly after having the new jab, had treatment and are both fine now.
They are understood to have had an anaphylactoid reaction, which tends to involve a skin rash, breathlessness and sometimes a drop in blood pressure. This is not the same as anaphylaxis which can be fatal.
Both NHS workers have a history of serious allergies and carry adrenaline pens around with them.
Professor Stephen Powis, medical director for the NHS in England, said both individuals are recovering well.
"As is common with new vaccines, the MHRA have advised on a precautionary basis that people with a significant history of allergic reactions do not receive this vaccination after two people with a history of significant allergic reactions responded adversely," he said.
Dr June Raine, head of the MHRA, said it was only right to take this step now that "we've had this experience".
Reactions like this are uncommon, but do happen with other vaccines, including the annual flu jab.
Several thousand people were vaccinated on Tuesday in hospital clinics on the first day of the UK rollout of the new Covid jab.
Prof Peter Openshaw, an expert in immunology at Imperial College London, said: "The fact that we know so soon about these two allergic reactions and that the regulator has acted on this to issue precautionary advice shows that this monitoring system is working well."
This is a story to assess with your head and not your gut.
No effective medicine is without side effects so you have to balance the risk and the benefit.
Remember, one in a thousand people in the UK have died after being infected with coronavirus this year and that figure is rising daily.
Two people, out of thousands immunised yesterday, had an allergic reaction which they recovered from.
Such reactions can happen with any vaccine and are treated with drugs such as steroids or adrenaline.
The MHRA has given targeted advice to those most at risk, but for the overwhelming majority of people, this changes nothing.
GPs 'ready to go'
Meanwhile, the NHS has announced the vaccination programme will be expanded out to GP surgeries from next week.
Doses are expected to be delivered to around 200 GP surgeries initially to allow them to start on Tuesday. The over-80s will be invited first.
Once the first 200 GP practices have received their doses the programme will be expanded out to more than 1,000 surgeries – with each local area having a designated site.
It means most patients will be invited to a GP centre that is not their usual one.
Similar arrangements are being made in the rest of the UK.
Dr Richard Vautrey, GP leader from the British Medical Association, said GPs were "ready to go".
"We have a wealth of experience in delivering vaccines – and will be able to do millions of people a week. It is really dependent on supply and how quickly we can get our hands on it."
The vaccine can still not be taken into care homes or to house-bound patients because of the strict rules around its storage and distribution. It has to be kept in ultra-cold storage until a few days before its use, so only patients who can come into the surgeries will be able to get vaccinated initially.
The NHS is hoping to get clarification on how it can move the vaccine around soon.
The vaccine will be delivered to GPs from the network of hospital hubs which are storing the jab in special freezers.
They will then have three-and-a-half days to use their doses, with each centre getting an initial delivery of 975 doses.
'The fightback has started'
Thousands of patients were vaccinated on Tuesday in hospital clinics – this included the over-80s and NHS and care home staff.
The 70 hospital hubs across the UK have taken delivery of 800,000 doses, but another delivery of more than one million is expected to be shipped from Belgium by next week to allow the community programme to get under way.
By the end of the year, the government hopes to have had around 5 million doses delivered in total – enough for 2.5 million people as two doses of vaccine are needed for full protection.
Health Secretary Matt Hancock said the vaccine programme marks the "start of the fightback against our common enemy, the coronavirus".
He stressed people did not need to apply for the vaccine, adding the NHS would be in touch with those eligible and urged them to "please step forward for your country". The vaccine is not compulsory.
Mr Hancock went on to warn that there was "still a long march ahead", saying there were "worrying signs" of the virus growing in Essex, London and Kent.
The UK is the first country in the world to start using the Pfizer jab.
The first recipient was Margaret Keenan, who turns 91 next week. She was given the jab on Tuesday at University Hospital Coventry and described it as the "best early birthday present".